BLOOMINGTON, IL -- From a news release:
Grassroots Protest Permit Request for Oil Drilling in McLean County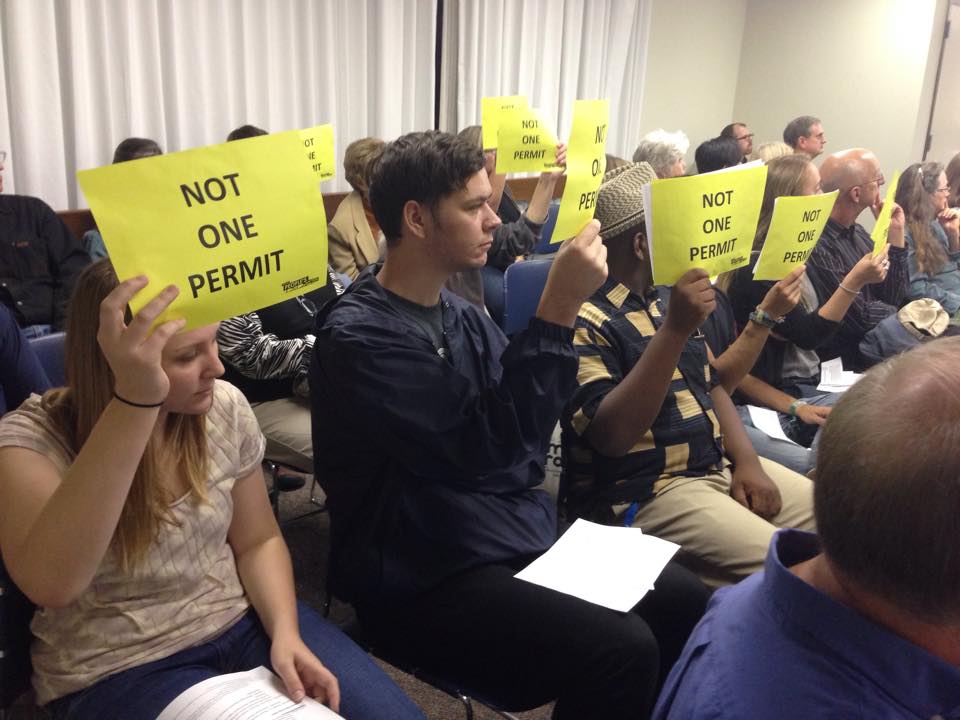 Holding signs saying "Not one permit," about 100 members and friends of Illinois People's Action and concerned McLean County residents turned out for a McLean County Zoning Board of Appeals meeting last night protesting Minard Run Oil company.   Minard is seeking a Special Use Permit allowing the company to drill for oil in McLean County.  After waiting patiently for over 2 hours to provide testimony, while Minard representatives droned on and on, often about irrelevant topics, a handful of audience members were allowed to ask questions before  they were informed the hearing would be continued on Tuesday, October 21 at 7 PM.
            During the brief question and answer time, Minard Officials acknowledged that they would flare gas at the sight, that they would run operations 24/7, 7 days a week, that the figures they provided to the Zoning board on how many trucks would travel on McLean County roads were inaccurate and that they weren't aware that 6% of well casings fail immediately and 60% over time.  The never mentioned once that they would, in all likelihood, be bringing up high levels of radium, which is common in Illinois shale, or the fact that they were found by the Pennsylvania EPA of dumping radioactive waste into a PA stream.  
            The Zoning Board of Appeals is tasked to decide what is in the best interest of the county and in making a recommendation to the larger County Board on whether the Special Use Permit for oil drilling should be given.  IPA posits that the state of Illinois is working off an old archaic law that will not protect county residents from a number of dangers including radioactivity, water pollution, air pollution, and loss of property value.  The organization is encouraging citizens to attend the October 21st meeting and testify.
        It is IPA's position that fossil fuel extraction is bad for both the environment and a just economy.  We support sustainable and renewable sources of energy development such as wind farms and solar gardens.  Illinois People's Action is a faith and community based organization with chapters in Bloomington/Normal, Springfield, Decatur, Peoria and Southern Illinois.  Its mission is to work on the causes of social, economic, and environmental justice issues.  It is a member of National People's Action. -30-